Did you make goals for 2013? Are you still working on them or have they already been forgotten? If you haven't made any goals for this year, I encourage you to pick one area of your life that you're struggling with and take some steps to make it better. Or, if you're like me, you may have goals in several areas that you're working on.
January has been full of unexpected surprises in our household. My husband lost a job that he dearly loved. We were forced to leave a church that we adored, and frankly we've just been dealing with a lot! It would have been so easy to wallow this month and just forget all the things I wanted to accomplish (and I did forget some), but God has been using this experience to draw us closer to each other and to Him. We are blessed that this happened when it did, so that this position was not our sole source of income. God continues to provide and has blessed us with amazing friends that have been a huge source of support and encouragement. For now, we are choosing to "bloom where we're planted", but we are open to God's leading and waiting to see what the future holds.
I share all this because it has impacted each of
my goals
.
1.
Spiritual
- My one main goal was to re-establish my Quiet Times. In the midst of this turmoil, I have gotten so much better about completing my devotions and focusing on my prayer life. I'm still mostly doing my Bible reading at night after the kids go to bed, but I'd like to switch that to the morning (as soon as I convince the baby to sleep in a little).
2.
Marriage
- I had a few goals for my marriage this year
Pray for my husband every day - Again, since he lost his position, I have prayer non-stop for everyone effected by this situation. I pray for wisdom, for guidance, and for hope.
Date Night - We actually had our "date night" at home. I'll be sharing more about it during the 14 Days of Dating Your Spouse series!
Special Gift for my Husband - My husband was supposed to go to a conference at the end of the month, but since that was cancelled, I'll have to come up with something else.
3.
Parenting
-
Pray for my children every day - I've begun praying for the children as I'm folding their laundry. It helps remind me that they'll only be this little for so long.
Establish one-on-one time with each child -

Baby C gets his alone time while he's nursing and several times each night (sigh!)
E gets his special time with Mommy before his nap and bedtime. We read several stories and rock before he goes down.
Middle Brother gets his special time during everyone else's naptime. We work on his Quiet Times and he'll help me with different projects.
Big Brother has started going grocery shopping with me. He enjoys spending one-on-one time with me and he gets to pick out his favorite snacks for school!
4. Home
Organizing Project - This month I tackled our "junk" drawer
Before (I really hate the "before" photos!)
After: I used an extra pencil box to hold the notecards and post-it notes that I use ALL THE TIME and I used an organizer with dividers that I picked up on sale at Home Depot for $3. It holds stamps, batteries, binder clips, and chapstick.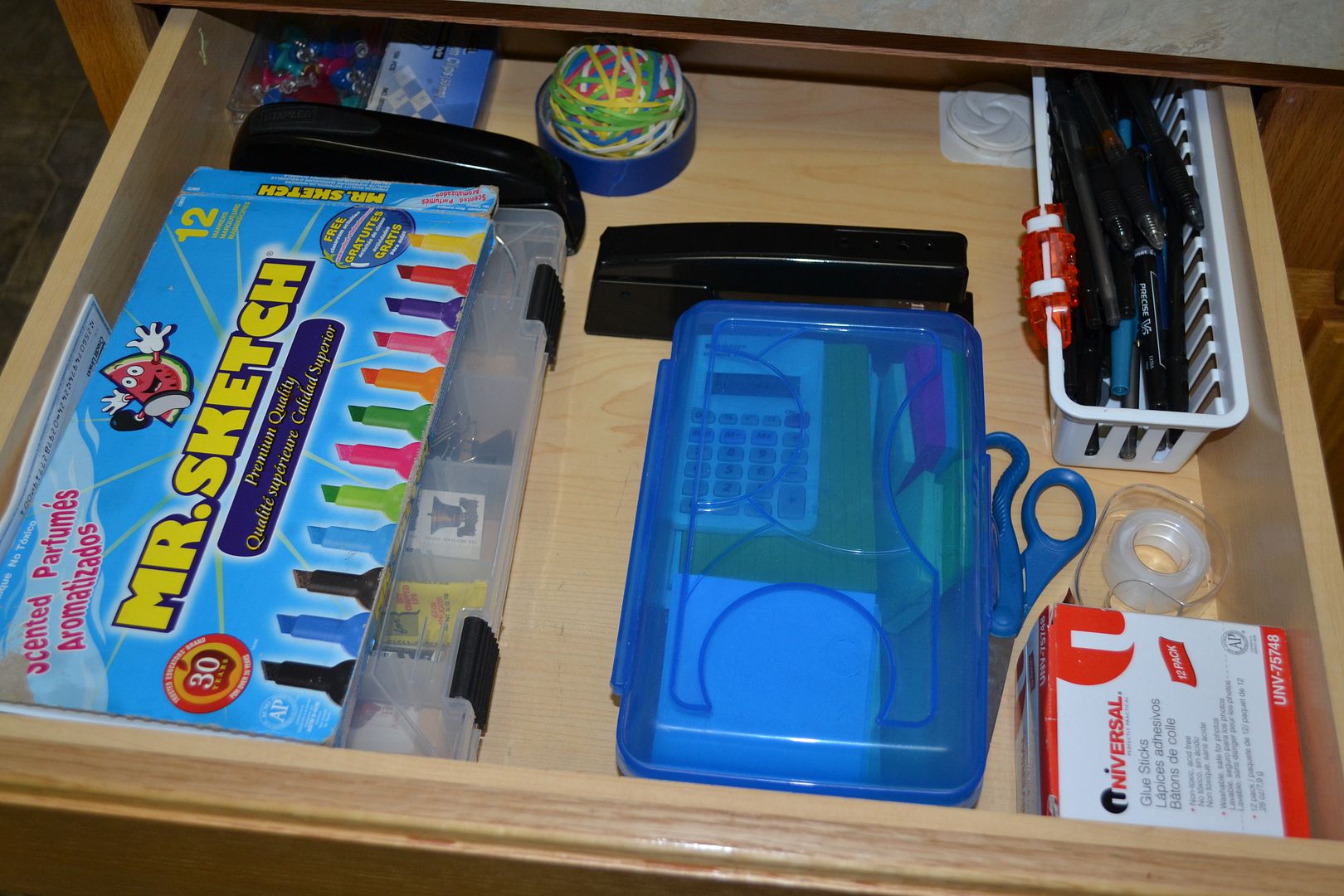 All the school and craft supplies went to our shoe organizer behind the laundry room door, which for us happens to be right off of the kitchen where we do most of our crafting.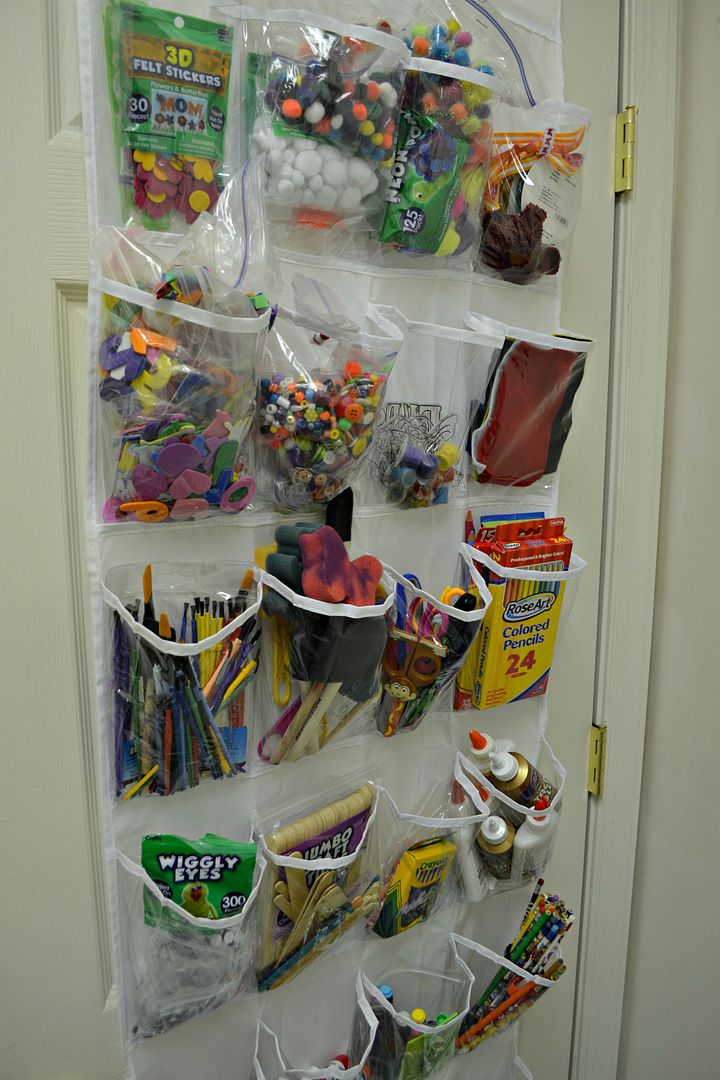 And, I put some shelves up above the baby's changing table. My mother-in-law gave us 4 of these YEARS ago and I used two of them in our sailboat nursery to hold the lighthouses. Now, I don't have to worry about storing all our necessities on the changing table where little hands can reach them or on top of the changing table where little feet were kicking them off. I especially love the vinyl verse I added to the wall. My husband claims it's because you need courage to tackle the things that come out of Baby C's diapers!
Establish a Command Center - not done yet...
Declutter 365 Things - This month I got rid of 54 things. I gave away a bunch of baby things, cleaned out the linen closet, and threw away a bunch of broken toys.
4.
Personal
Exercise 3x/week - This was sporadic at best. The first time I put in Jillian Michael's 30 Day Shred, the baby started screaming 7 minutes into it. The second time, he gave me 12 minutes and I thought I'd let him "fuss it out" for a few minutes. Five minutes later, he had worked himself up so much that he threw up all over his crib...my work-out was over! I've popped it in a few times since then, but never with great results. I'll try again next month! The good news is that with all the turmoil this month, I've lost 3 pounds. It's not the way I would have chosen to, but I'll take what I can get :)
Try a new recipe each week - I have to be honest here, I completely forgot! What?! Seriously, I've just been trying to get dinner on the table, forget introducing new recipes. I did try a new smoothie recipe on the kids. Maybe that counts?? And, I have a new chicken recipe to try this week.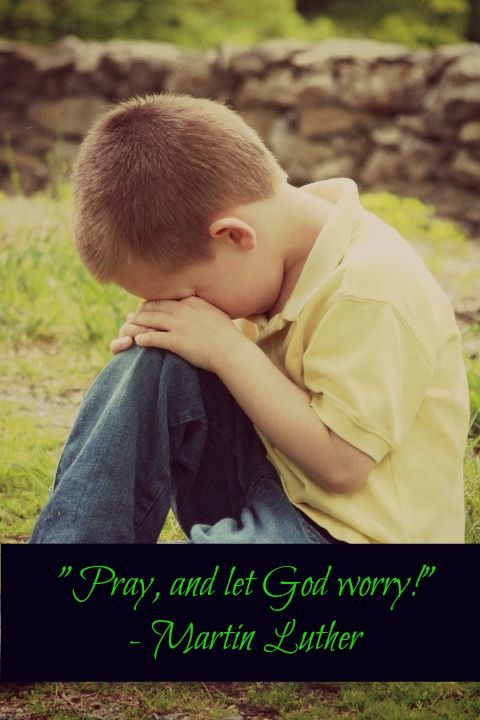 At the beginning of the year, I said that 2013 would be the year that I would "pray more, worry less, and enjoy the simple things in life". I had no idea how much that would be tested...and it's only January! Thank you Lord for giving us the strength we need to make it through each day and for never showing us more of our journey than we're prepared to handle!
"But he said to me, 'My grace is sufficient for you, for my power is made perfect in weakness.' Therefore I will boast all the more gladly of my weaknesses, so that the power of Christ may rest upon me." ~2 Corinthians 12:9