Today, we wrote two letters to Santa...
One, was a cute keepsake complete with mistle-toes :)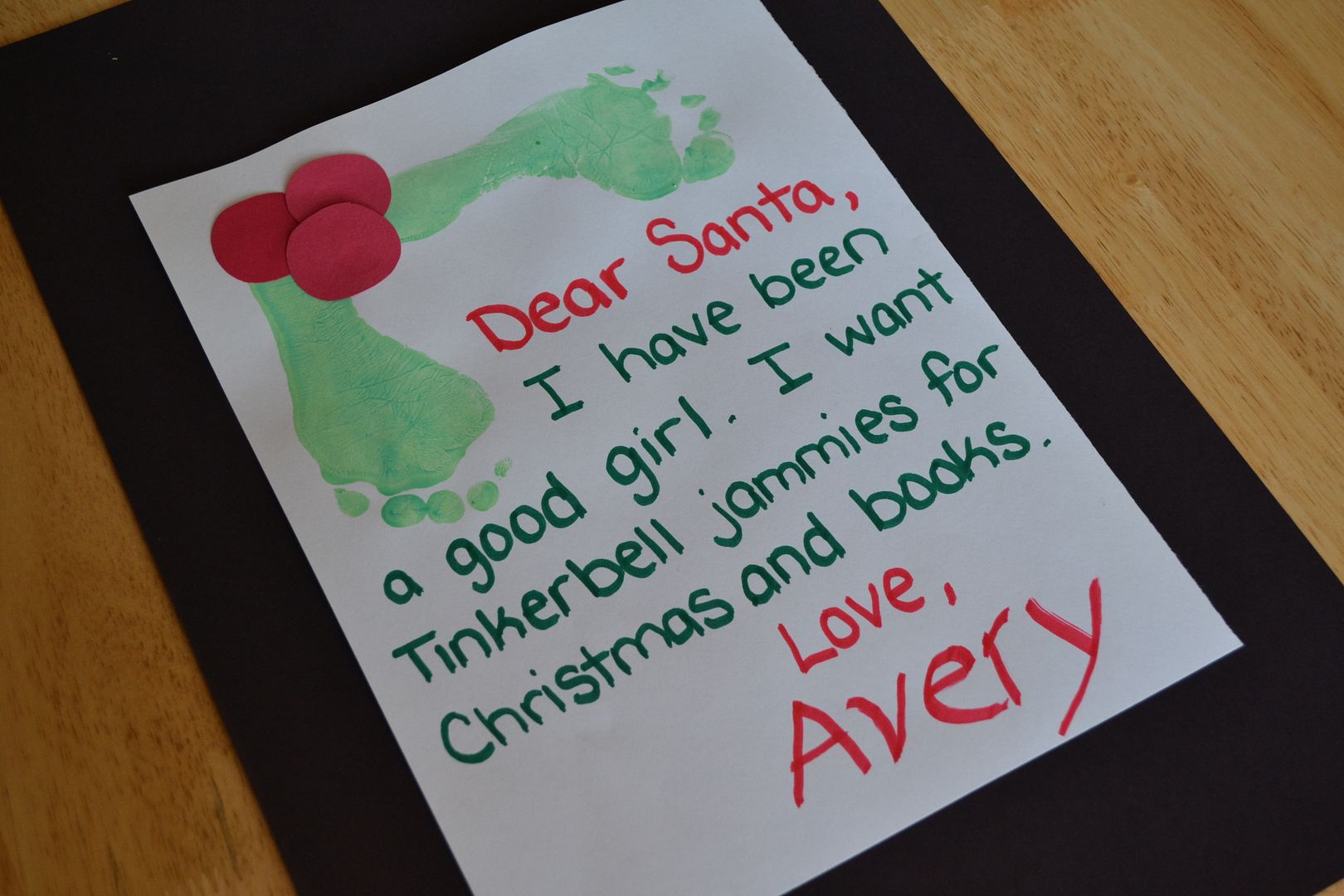 The other was a service project to help a little girl raise money for the Make-a-Wish Foundation.
Gabriella
is a local fourth-grader who was recently diagnosed with a rare and aggressive form of brain cancer. I first learned of Gabriella's goal to give back to the Make a Wish Foundation through our ladies prayer group at church. Then, I found more and more friends making mention of little Gabriella on my Facebook page and encouraging people to write letters to Santa to help her efforts. I am in awe of this little girl's strength and compassion. My heart and prayers go out to her family during what must be an overwhelmingly difficult time.
Gabriella's goal is to have her friends write 10,000 letters to Santa that she can personally deliver to Macy's on December 23rd. If Macy's receives 1,000,000 letters they will donate $1,000,000 to the Make a Wish Foundation. What makes this endeavor even more remarkable is that Gabriella's family does not even celebrate Christmas - they are Jewish. This little girl is inspiring people of all faiths to stop for a moment, count their blessings and write a quick Dear Santa note in support of the Make-A-Wish Foundation, an organization that, "enriches the human experience with hope, strength and joy."
As a family, we decided to do our part to help Gabriella gather the 10,000 Letters to Santa that she is hoping to deliver to Macy's for their $1,000,000 campaign. My daycare kids have all written a note and I plan to take them to the kids at church this weekend. If you'd like to help Gabriella, you can download the letter template here. It's such a simple thing to do to help this remarkable little girl help others get their wish!
To support Gabriella, please mail your letter to:
Dear Santa - "Make-A-Wish with Gabriella"
20899 McIntosh Place, Leesburg, VA 20175
Thank you Gabriella for allowing all of us to do a small part for this wonderful cause. You are a shining example to all of us. God bless you!!