This is what living in a house with 5 boys will do to you! My boys think poop is funny, like roll on the floor clutching your side funny. At 6 months old, the baby laughs hysterically every time he toots and I have to admit there is something funny about such a loud sound coming from such a tiny baby! I've come to accept the fact that I will never evict the terms "poop", "toot", or "gas" from my household. I do keep them from the dinner table and I've outlawed the "f" word (not THAT f-word, but the "beans, beans, they're good for your heart" one - well actually both, I suppose.)
Last week, even I had to laugh at my 4-year-old's face when I told him we were making "Reindeer Poop", aka chocolate no-bake cookies. I remember making these with my mom when I was a kid and I always thought they looked gross. And they do look like little piles of poo, so I figured I'd add them to our week of reindeer fun with a festive name and a whole new attitude :)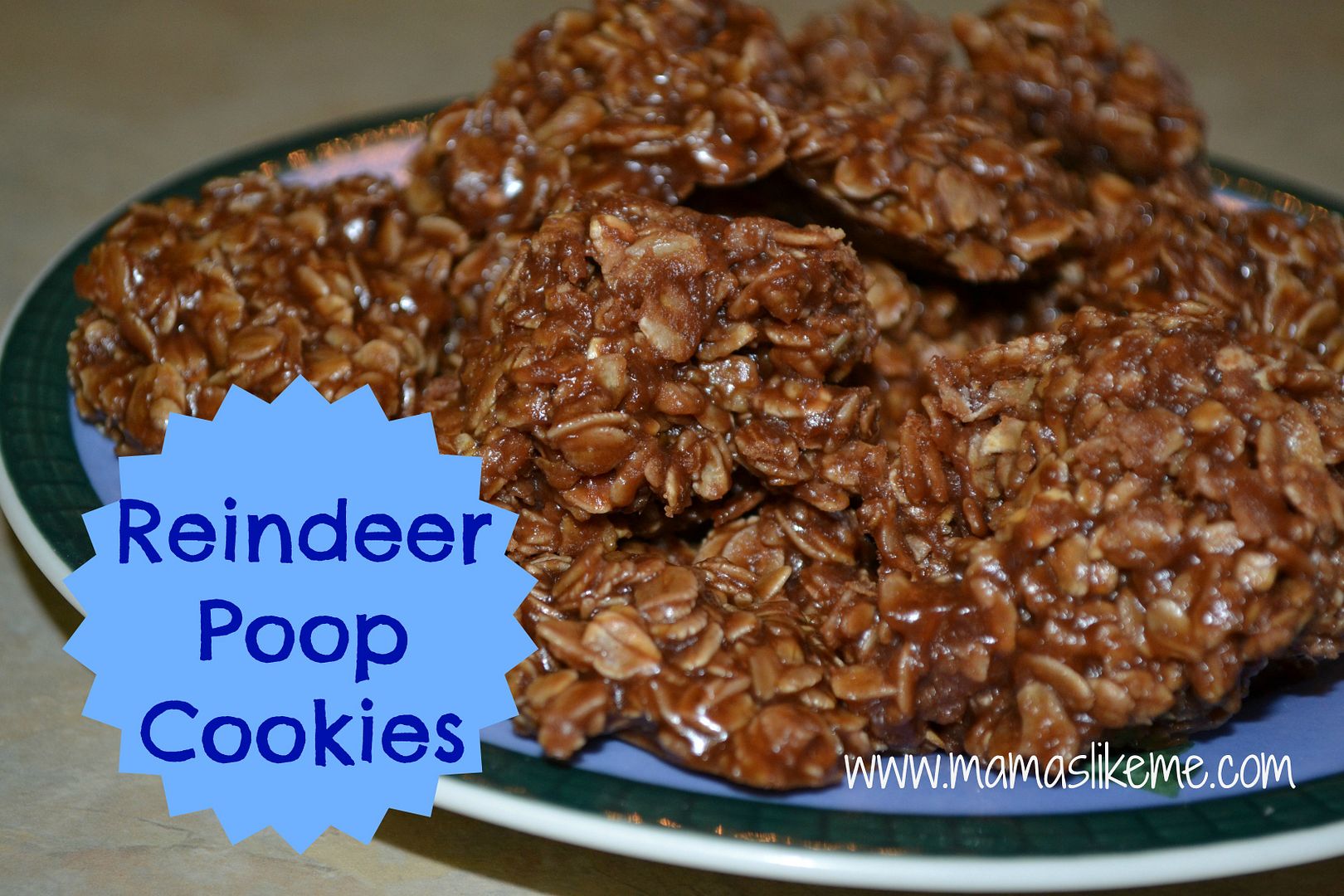 Ingredients
:
1/2 cup butter or margarine
2 cups sugar
1/2 cup milk
4 Tablespoons cocoa
1/2 cup creamy peanut butter
2 teaspoons vanilla
3 1/4 cups oats (we used old fashioned oats because that's what I had on hand)
1. Bring butter, sugar, milk, and cocoa to a rapid boil stirring constantly in a 4-quart sauce pan.
2. Boil 1 minute and remove from heat.
3. Stir in peanut butter, vanilla, and oats until peanut butter melts and everything combines.
4. Drop by spoonfuls onto a wax-paper lined cookie sheet. (We did our in layers with a piece of wax paper in between.
5. They will harden as they cool.
We wrapped some of ours in Ziplock bags and stapled labels that read "Reindeer Poop" with ribbon on them. These would be so cute for gifts for neighbor kids, sports teams, or clubs.
I have to share a conversation that the big kids had when they got home from school and saw these:
6-year-old boy - Mom, what is that stuff in there?
10-year-old girl - Oatmeal
6-year-old boy - Why?
10- year-old-girl - Because that's what the reindeer eat, duh!
You have to love the way they think :)