Do you ever wonder if someone's Facebook status is the real story? There are typically two types of moms on Facebook. #1: The mom who appears to have it all together. (This is usually the one I fall into - you'll see why in a second) She posts pictures of fun family outings and regales you with statuses of the funny things her kids did and said. Some of her statuses read like a laundry list of all the things she accomplished that day and you think, "Wow! How does she do it?!". Or there's #2: The whiny mom. This mom's kids are chronically sick (or she is), she constantly has a TON to do, and her life is always falling apart - ALWAYS! I've decided that neither of these can be the real story. Let's take my day for example...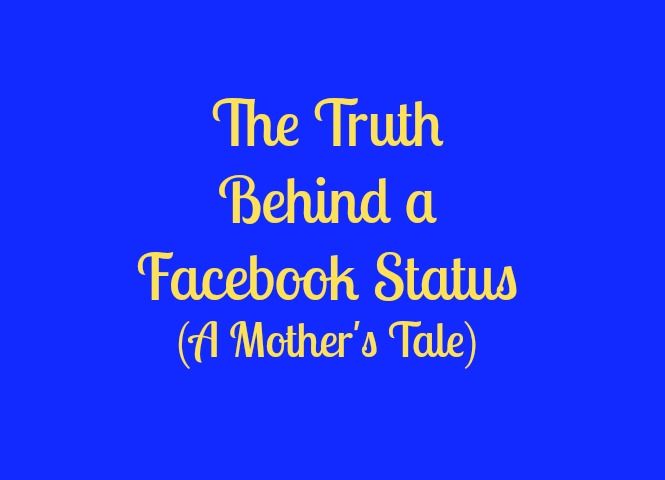 Here's what my status would look like if I were to post it:
Today the kids and I made forts, created rockets with Legos, got to play "scientist" by making tornado bottles, and had lots of fun with trains. I even got lots of baby snuggles! :)
Some of you are reading that thinking "I wish I could stay home and play with my kids all day!".
Everything in that status is absolutely true, but here's what I would have left off:
The baby is battling a 102 degree fever and has not let me put him down ALL DAY LONG! I'm running on 3 hours of sleep (not consecutive) and I'm not quite sure how I'm going to entertain the kids all day. My toddler lost "blankie" this morning and we spent a good deal of time listening to him cry while we searched for it. Finally, the baby fell asleep so we were able to make our tornado bottles, have snack, and do some coloring. I got lots of pictures so I can submit that project. (That will pay for one more Christmas present.). The baby woke up screaming and I had to figure out how to get lunch ready while bouncing him. Two of the kids fought over the Legos. My husband called and is upset because I scheduled a hair appointment for the same day that he wanted to pick up bunk beds (*sigh). That reminds me, I need to call the doctor's office about a bill that we got. Oh, there's still 45 minutes until naptime, "How about some Mickey Mouse?!". Maybe then I can wash a load of diapers...
And, just like that, my day doesn't seem so perfect. I'm not really looking for sympathy. As moms, we all have days like this. It's just another reason that it's so important for us to support each other, even if on Facebook it looks like we've got it all together. My life may look picture perfect, but that's because I'm not sharing the late nights and early mornings. I leave off the tantrums, the longing for adult conversations, and the need for an escape from teething and potty training. My job is hard - and it's worth it! Sometime, though, it's just nice to let someone see the "real story".
What about you? What's the real story behind your Facebook status?