While I was in college, I worked as an intern for our county's school board office. That job taught me many things, most importantly that I absolutely LOATHE working in an office! High stress, stuffy cubicles, and staring at a computer screen all day are definitely NOT for me!
The highlight of this job, other than getting a behind-the-scenes look at the county I hoped to work for one day, was all the amazing people that I got to meet. I made some lasting friendships with my other interns and with employees that I still keep in touch with.
One of the most influential women I met while working there was Miss Ollie. She was one of those true southern belles that you would never simply refer to without using a proper title. She looked perfect at all times, could handle any crisis with grace, and made everyone feel like the most important person in the office! I loved her - in fact, I hope to be just like her one day when I finally grow up!
Another one of the perks of working in an office is the food. There is always food and lots of it! One of Miss Ollie's signature treats were her lemon bars! They were absolutely amazing - and I don't like lemon! Well, sad to say, Miss Ollie moved back to Georgia and took her wonderful lemon bars with her. Years later, though, one of the other interns, was able to track her down and got the recipe from her. I've been using this recipe for years and it's always a hit! My sister actually requests them, and she doesn't like lemon either.
Now, I hope this isn't a secret family recipe. I'm guessing that she wouldn't have given it to us if it were. And, if it is, I hope that Miss Ollie will forgive me, but these are just too good not to share :)
Ingredients:
Crust
:
2 cups flour
2 sticks butter - softened
1/2 cup powdered sugar
Filling
:
4 beaten eggs
6 Tablespoons lemon juice
2 cups sugar
1 teaspoon baking powder
4 Tablespoon flour
1. Mix the ingredients for the crust and spread into a medium-sized cookie sheet or jelly roll pan. Bake at 350 degrees for 10-15 minutes.
2. Beat filling ingredients and pour on top of baked crust. Bake for an additional 20 minutes.
3. Sprinkle with powdered sugar while hot. (You can use a sifter for this or a mesh drainer will also work well)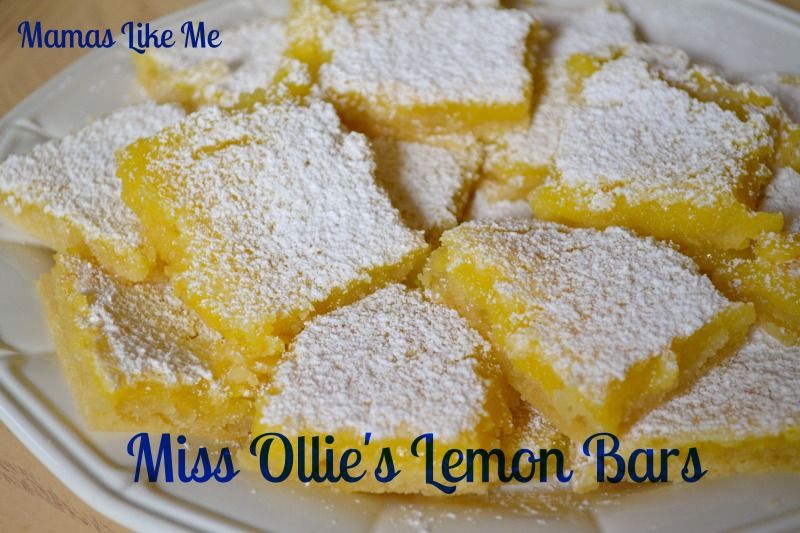 I have also made these for the 4th of July and used blueberries and red gel icing to create American flags...super cute!
Thanks for stopping by! I'd love to hear from you in the comments and have you join us back again!
Want more ideas for spending time with your kids? Be sure to follow us on our NEW Facebook or Pinterest pages and sign up for emails to keep up with all the latest crafts, activities, and kid-friendly recipes!