Along with our Party City gift card, we were recently sent a
Giant Buzz Lightyear Gliding Balloon
. Have you seen these things? They're huge - 53'' to be exact! When the company contacted me, I was working on a Buzz Lightyear party for Middle Brother and I was so excited to be able to add their products to our party...then, a few days after they arrived, Middle Brother decided he wanted a
Captain America party
instead!! So, instead of letting all my planning and research go to waste, I figured I'd share some of my favorite finds with you!
Here is the giant gliding balloon that I was sent. They are $19.99 online and come uninflated. The feet of the Buzz Lightyear Balloon are weighted so that he "walks" as you pull on his string, giving him a lifelike appearance. He would be a fun decorating addition to your child's Toy Story party or an innovative part of any party game. (I'm imagining "tape" the ______ on Buzz). The Gliding Buzz Lightyear Balloon is made of durable vinyl and can be refilled with helium (sold separately) any number of times, or deflated after use for storage. Filling the balloon at Party City will cost about $15. A friend of mine had a giant gliding balloon of Minnie at her daughter's 2nd birthday party...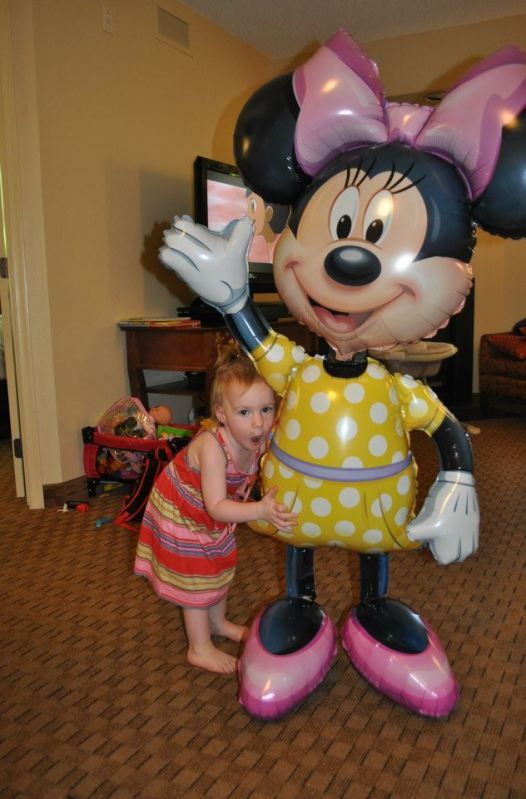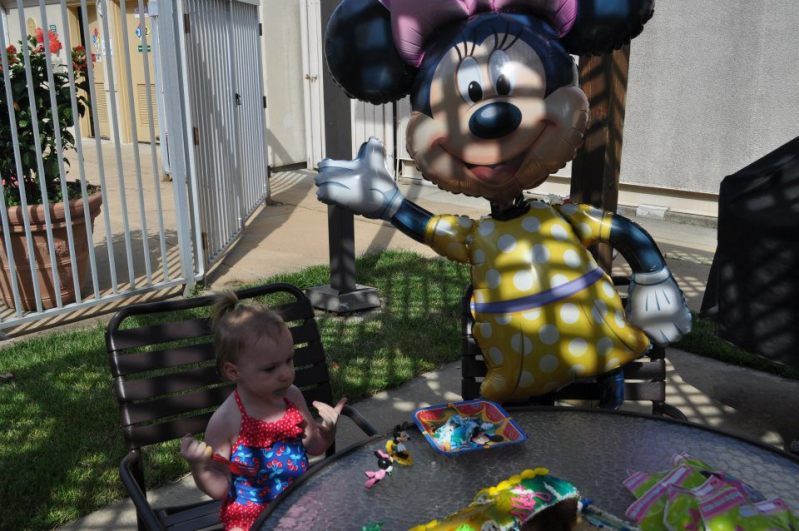 Minnie even joined them for cake!
You can see how much she loved it!
But, be careful - the kids were able to put a hole in it on the first day.
Here is the Buzz Lightyear cake that we did for Big Brother's 5th birthday. It was pretty simple to do with the
Wilton Toy Story Cake Pan
.
This time we were also going to add these alien cupcakes from
Disney Family
.
I also planned to have the kids do their own party bags as a party craft. I found these adorable alien party favor bags at a blog called Southern Belle's Charm that apparently no longer exists, but you can get the idea from this picture (Thank you
Pinterest
for saving the idea!).
In addition to the other party food, I wanted to make these rice krispee rockets and alien spaceship cones also from Southern Belle's Charm (too bad they're not around anymore!)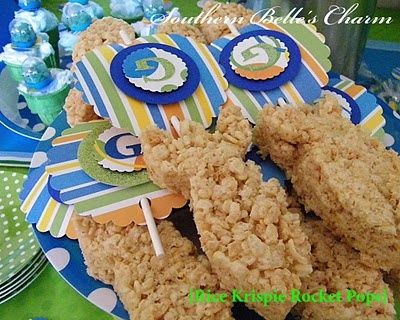 As far as party games go, we had a few ideas:
1. Freeze small toys in large blocks of ice (using a 13''x9'' pan) and give the kids water gun "lasers" to free the toys.
2. Scavenger Hunt with the toys. (Army men would be great to use with this.)
Who knows? Maybe one of the other boys will decide they want to have a Buzz Lightyear party when they get bigger so we can use all these great ideas :)
Thanks for stopping by! I'd love to hear from you in the comments and have you join us back again!
Want more ideas for spending time with your kids? Be sure to follow us on our NEW Facebook or Pinterest pages and sign up for emails to keep up with all the latest crafts, activities, and kid-friendly recipes!