Are you a mom who thinks she can do it on her own? I am...or I was.
I'm a bit of a perfectionist. I have schedules and routines. I like things done a certain way. I want a clean house, menu plans, educational activities for the kids, and a chance to shower! With one child this was a breeze, with two it was pretty easy, with three it was manageable...
With four, I feel like I'm losing my mind!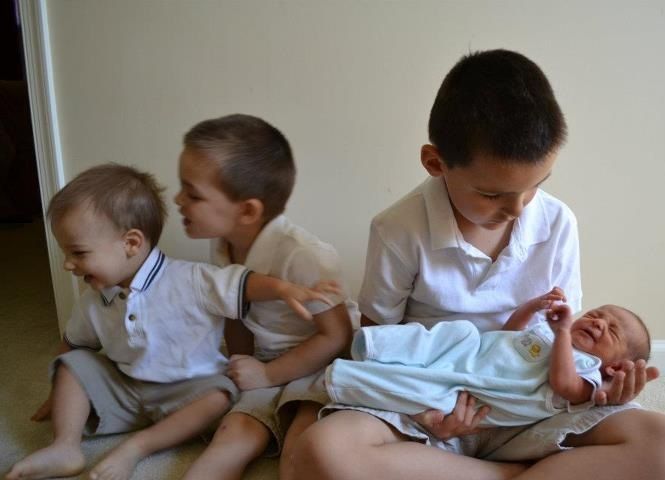 Maybe it's the baby's acid reflux...
Or my sick/cranky toddler...
Or my husband's new schedule...
Or the lack of sleep...
But, the last two weeks have been rough! At times, it seems like I'll never see the light at the end of the tunnel.
In my darkest moments, before the tears get too bad, I remember Matthew 11:28
"Come to me, all you who are weary and burdened, and I will give you rest."
And I know that I'm not alone. In fact, there's no way that I could have gotten this far in my own strength. The hourly feedings at night would have gotten the best of me weeks ago. No, the Lord is giving me just enough strength, and just enough patience to get through each day. Thankfully, he's also given me an amazing "village" to help me with my beautiful blessings. I couldn't do it without them!
So, thank you to my wonderful husband who manages to light up the whole house with energy when he comes home from work.
And thanks to the neighbor who made sure that Big Brother got to camp this week.
Thanks to the nursery workers who give me my only "kid-free" time of the week!
Thanks to the ladies who held Baby C during VBS so I could travel around with the bigger boys.
Thanks to my in-laws for watching the kids so we could attend a wedding this weekend.
Thanks to my family who is always willing to take on my troop for an evening.
And thanks to all my midnight friends on Facebook who keep encouraging me that things will get better!
Thank you all for being part of my "village"!