Bacon is a magical food in this house! It makes my kids and husband come running. It immediately makes dinner more exciting. In fact, I'm pretty sure that I could get my husband to eat vegetables if I could figure out a way to wrap them in bacon! (Notice I said "husband"...)
Last week, I decided to get creative and use our magic ingredient to make a fun chicken dish. It turned out great and I was so excited. Unfortunately, my husband had to leave early that night to get the older boys to Vacation Bible School, so it was just me and my 17 month old enjoying my delicious dinner. The good news is that it made excellent leftovers for the next day :)
(I apologize, but I'm not one of those people who typically measures everything. Do what you will with this list):
4-6 Chicken Breasts (you could also use tenders to make them cook faster. My chicken breasts were smaller so I left them whole)
1/2 package of Bacon
All-purpose seasoning
Garlic Powder
Salt
Pepper
Chopped tomatoes
1. Season chicken with all-purpose seasoning, garlic, salt & pepper to taste on both sides of the chicken breast.
2. Wrap the chicken breasts in bacon and lay in a 2 qt. baking dish. You may need to secure the bacon with toothpicks if using smaller cuts of chicken. Top with chopped tomatoes.
3. Bake in a 350 degree oven for 25-30 minutes or until chicken in done.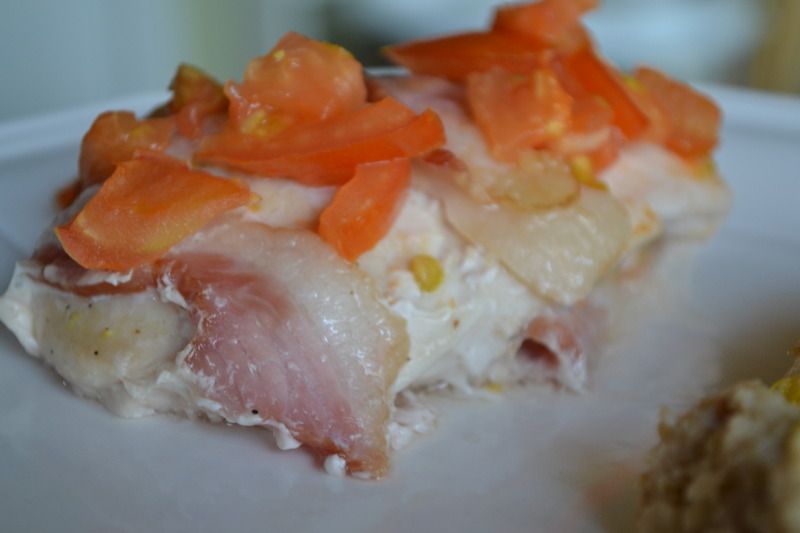 I served this with
squash casserole
(using some yummy fresh squash from my niece's garden - thanks guys!) and a salad.
Enjoy!