June 25th is Eric Carle's birthday! My kids love his books, so in honor of his birthday, we are reading and creating all things Eric Carle. To get us started, today we read The Hungry Caterpillar and created some caterpillar crafts. If you don't have the book, check out this link to an online version of Eric Carle reading
The Hungry Caterpillar
. My kids love hearing the author read.
We made:
(also a great circle review)
And made fuzzy pom-pom caterpillar puppets
.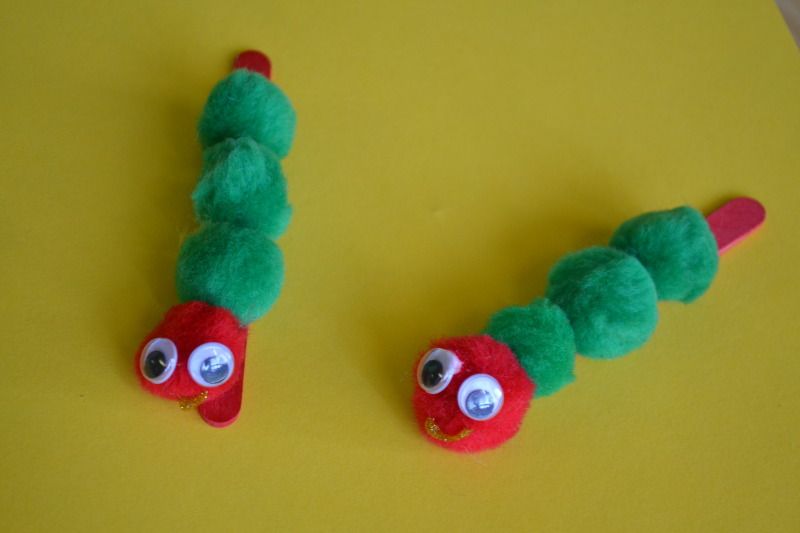 If you want some other Eric Carle ideas, why not read The Very Busy Spider and make a
yarn spider
or do some marble painting and make a
W for Web
.
Later in the week, I'll be sharing some other crafts and fun stuff to go along with The Grouchy Ladybug, Brown Bear, Brown Bear, and A House for Hermit Crab. In the meantime, you can get more inspiration from this
Eric Carle Linky Party
! So many great ideas!!
What's your kid's favorite Eric Carle Book?
Thanks for stopping by! I'd love to hear from you in the comments and have you join us back again!
Want more ideas for spending time with your kids? Be sure to follow us on our NEW Facebook or Pinterest pages and sign up for emails to keep up with all the latest crafts, activities, and kid-friendly recipes!