"Oh, what I could do with a few hours to myself!"
~This thought goes through my head at least once a week, usually when I'm trying to mop the floors, or vacuum, or when I get really motivated and consider cleaning out a closet or a toy box. There are so many things that would be much easier to do without my extra little helpers around :)
Does this look familiar?!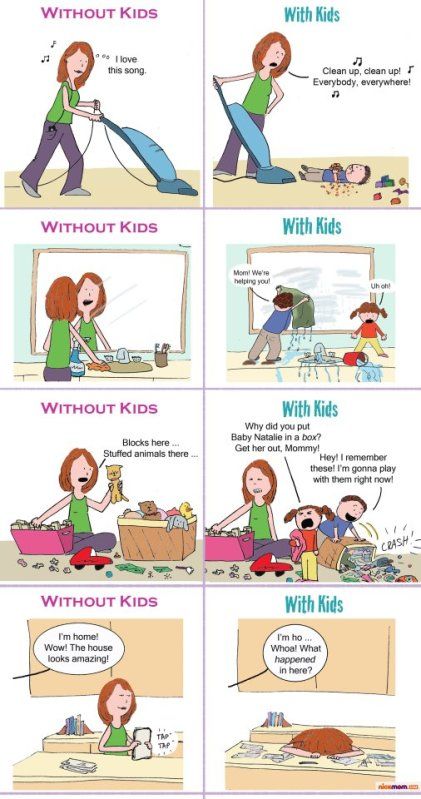 This week, my wonderful mother and sister are taking my older boys to the beach. We felt so bad that they were going to miss out on a family vacation this summer with the new baby. It would just be too difficult to take a newborn, a 16-month-old, a 3-year-old, and a 6-year-old on any big trips - even an afternoon at the pool is stretching it! I'm so thankful that we have a wonderful family that loves spending time with our boys. I know they're going to have a great time - and I'm going to spend the next few days crossing some things off my to-do list!!
1.
Shampoo the carpets
- Okay, my wonderful husband is going to be cleaning the carpets :)
2.
Clean out the closets
- I plan to declutter my closets of all maternity clothes (or at least most of them) and pack away the boys clothes that they have outgrown. My husband has even started getting rid of some of his clothes that he no longer wears.
3.
Declutter the toy box
- This is definitely something I've been meaning to do, but don't have the heart to do with the kids at home. I need to go through and throw away all the broken toys and box up the toys that the kids don't play with. I've also always wanted to start a toy rotation by boxing up half the kids toys and then switching them out throughout the year. Maybe I'll get really ambitious and do that as well :)
4.
Find my dining room table!
- This one is truly sad. I know I have a dining room table, but currently it's buried under a pile of library books, baby gifts and cards, mail, forms I need to fill out, notes for Middle Brother's birthday, and my notebook of projects for church. My goal is to deal with the paperwork and find my dining room table again...
Do you have a project you've been putting off? What would you do with a few kid-free days?
**Now, if I could just get past missing my little boys so much, so I could get down to work!!