*Warning - This is one of those stories that women sit around and tell like old war stories - and it's long! I apologize if anyone is offended or if you think it's TMI, but well, you were warned :)
As some of you know, I went into the hospital last week for testing because I was having problems with high blood pressure. You can read about that embarrassing story
here
. That was last Wednesday (although it seems like a lifetime ago). On Thursday, I was back at my OB and my blood pressure was high, so they had me do a 24 hour pee test and take it into the hospital on Saturday. It is so clear now how God was looking out for us through this whole ordeal. The doctor I saw on Thursday said that I would have more tests done at the hospital and based on the tests, they would decide whether or not to induce. When I got to the hospital, the doctor on call just wanted me to drop off my jug-o-pee and head home. I am so thankful that there was a nurse there that decided to go with her gut and check my blood pressure anyway.
After a few tests, they decided to induce. They told me I would have to return to the hospital that evening and stay overnight so they could give me cytotec to "ripen my cervix". At that point, I was not dilated at all. The plan was to insert the cytotec overnight, remove it in the morning, and begin pitocin at 8am. I sent my husband home with our children and waited for the procedure to begin. Before he left, he asked several nurses to make sure that there was no chance that I would deliver before he got there in the morning. Everyone assured him that they wouldn't begin inducing until the next morning...
Due to a lot of unforeseen deliveries that night, the nurse didn't insert the cytotec until almost 10 that evening. They were going to monitor me for two hours and then I could go to sleep for the night. By 11:30pm, I began timing my own contractions at every 5 minutes. At midnight, I asked for pain medicine and began thinking about calling my husband. I didn't want to wake him. I didn't want him to wake the boys. And, I certainly didn't want all of them waking my sister to drop them off if I wasn't actually in labor. I was only 3cm - I could make it...
At 12:30am, I called my husband and told him to pack the boys bags and get ready to leave. I told him that they were going to give me an epidural and that it might stop the contractions. I would call him as soon as it was done.
At 1:00am, they attempted the epidural. I'm a bit cynical about this part. It hurt!! And, it didn't work! In all fairness, it might have worked if I wasn't laboring so fast. It also might have worked if she had given me a spinal tap, but it's too late to worry about what
might
have worked. This was one of those times when the awesomeness of my nurse shone through. She held me through the whole thing as I cried and blubbered like a baby (did I mention that it HURT?!!). She wiped my tears (and my nose) and told me how great I was doing (of course we all knew
that
was a lie!).
Around 1:30am (the times get a little fuzzy here), I called my husband and told him to get to the hospital. Mostly, I was doing a lot of crying and breathing through contractions at this point. They were coming every 2 minutes and by 2am I was 5cm dilated.
At 2:05am, I called my sister (she keeps telling me what time it was) and told her I was 5cm dilated and that my husband was bringing the boys. I remember apologizing for waking them up in the middle of the night (again!). My last three children have been born in the middle of the night.
And then things got very ugly, very fast. My wonderful nurse came to check on my again. Actually, I'm pretty sure she was in the room most of the time, but I was in so much pain that I couldn't really talk to her. She tried to get the anesthesiologist back to give me
something
for the pain. I remember asking if I could go to the bathroom, being told it was too late, and given a towel for between my legs. I'm not sure what that was for exactly, but I wasn't complaining about anything at that point. I curled up in a ball on my side and willed my husband to get there.
Fifteen minutes later, my nurse wanted to check my progress. She rolled me over and I remember shouting, "He's coming!". At that point, I felt an incredibly strong urge to push. If you've never delivered naturally, I can't explain it except to say that it feels like you
really
have to go to the bathroom and it hurts! I pushed once and my water EXPLODED! This was my fourth child and I had NEVER seen anything like it. I'm pretty sure I soaked every nurse and doctor in the room. I'm not even sure where some of those nurses came from. I think I heard one say, "I heard the commotion from the hall". That's right; I was scaring people in the hallway!! Immediately after that, there was another contraction (there really was no time in between them anymore) and I pushed him out - that was it. Two pushes - one for the water, one for the baby! At 2:26am, my precious baby boy came into the world!
You might think that I would have been relieved that he was out, or thankful that it was over. Actually, I burst into tears and began apologizing that I couldn't wait until my husband got there. I'm not sure who I was apologizing to, but at the time it felt important. As they were weighing him, my wonderful nurse grabbed my camera and began taking pictures.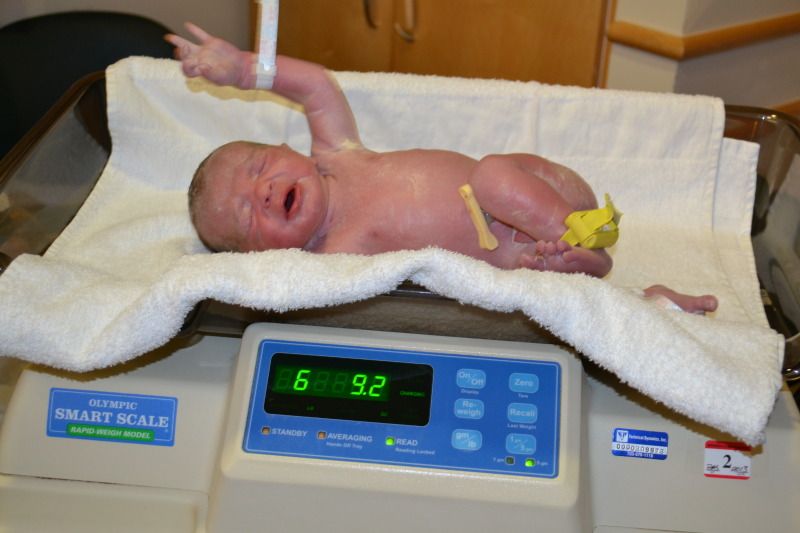 Ten minutes later, my husband walked in as they finished my few stitches and finished with the baby. I'm pretty sure there were a few tears in his eyes as he held him for the first time. He kissed me and apologized for missing it, but I wasn't mad. There wasn't any way he could have made it. No one could have known how fast that labor would have gone. Well, I do believe that God did. In fact, that's why I think I was in the hospital the night before. There is NO WAY that we would have made it to the hospital in time (living an hour away) if I had gone into labor at home. I can't even imagine how scary that would have been. I am so thankful now for all the ways that God intervened (high blood pressure, nursing staff, helpful friends and family) that made sure that I was already in the hospital before my labor began.
And here is the end result of my 3 hour labor: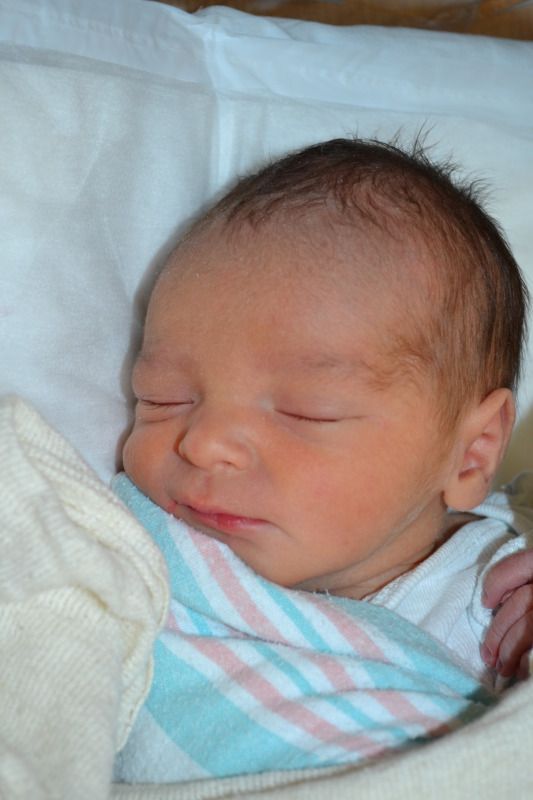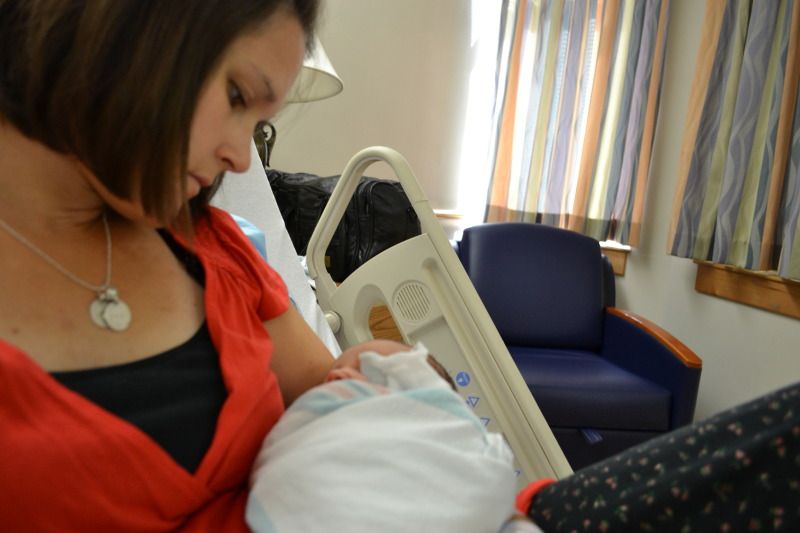 And, here we are the next day getting ready to leave the hospital. Yes, I delivered on Sunday and we came home on Monday, but that's a story for a different day. Baby C is waking up for another feeding and I'm just so thankful that we're all home safe. There is nothing like having FOUR precious baby boys in the house!!
Thanks for stopping by! I'd love to hear from you in the comments and have you join us back again!
Want more ideas for spending time with your kids? Be sure to follow us on our NEW Facebook or Pinterest pages and sign up for emails to keep up with all the latest crafts, activities, and kid-friendly recipes!