In today's society, most people would think we're weird because we have a 6-year-old that (until very recently) had NEVER been put into organized sports - no t-ball, no soccer, no basketball, NOTHING! We didn't enroll him in art classes or piano lessons, and he's never had swim lessons. I didn't even put us in Mommy-and-Me classes, unless you count that one BabyGarten class at the library. Why didn't we do all of those things? Well, for one thing, he wasn't interested. Right around the age of four, we asked him if he wanted to do soccer or basketball and he always said no. He's not the competitive type and he's really shy so we didn't want to push him.
Plus, we were busy! I know that sounds strange. How could we be busy if we weren't enrolled in a million activities?! Well, we were busy being a family. We were busy with family dinners and picnics, with trips to the zoo and the library and the parks. We were exploring outside and doing crafts at home, and just genuinely enjoying being a family that didn't have a schedule for Saturday. That meant we were free to try out any activity or adventure that we chose.
Now that he's 6, though, Big Brother wanted to try soccer and so we obliged. You know what? He LOVES it!! We decided to do Upward Soccer because it's more laid-back and it's a shorter season. He is having a great time with his team and I have three main things that I love about him doing sports: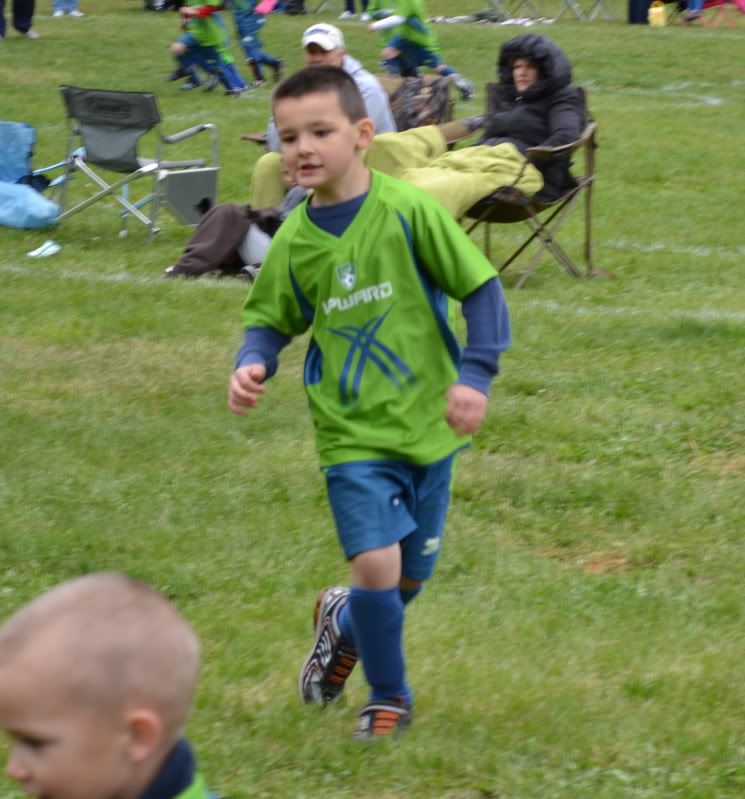 1) Physical Exercise and Learning New Skills - I love that he's out practicing his kicking and dribbling and trying to make goals. It's also great to wear all the kids out, because all three of them are running around the soccer fields on game days.
2)
Self-Esteem and Social Skills
- I love seeing Big Brother's face light up when he does well and seeing him interact with his team. He's having fun and enjoying meeting new people in a new environment.
3)
Learning Good Sportsmanship
- Playing sports teaches kids (even when they're not keeping score) that sometimes you win and sometimes you lose (Is anyone else hearing the Yo Gabba Gabba song right now??). In our case, it's also teaching our son that it's okay to take the ball from the other team and it's okay to take the shot yourself every once in awhile :) After he got the Good Sportsmanship award last week, Big Brother told us that he was going to "help the other team next week"...he's still working on the rules of the game :)
When did your kids start in sports?
Next week I'll be sharing my thoughts on the trend of over-scheduling and an interesting conversation I heard at the grocery store!!