Summer is here! Well, maybe not technically, but school is almost out and it sure feels hot! So, it's time to break out some summer crafts and activities!!
Today, we talked about all the fun things that the kids are looking forward to doing this summer. Of course, most of them mentioned going to the beach and playing in the pool, but we also got to talk about vacations, zoos, amusement parks, and picnics.
Then, we made fun summer sun collages to remind us of all the great things that summer brings.
Orange and yellow construction paper
magazines
scissors
glue
markers
To prep for this activity, I cut circles and triangles out of construction paper. This would be a great time to let the older kids practice their scissor skills and cut out their own shapes.
1. After identifying the shapes and colors, the kids used 5 or 6 triangles to make suns out of their shapes. In the middle of each sun, I wrote "Summer is for...."
2. Then, the kids looked through magazines and cut out pictures of things that reminded them of the summer. The younger kids looked through pictures I had already cut out and picked which ones they wanted to put on their sun.
This was a super simple craft that got them talking about the upcoming season and helped me learn what they already know about various topics that we're going to be talking and reading about, including the zoo, beach, circus, and amusement parks.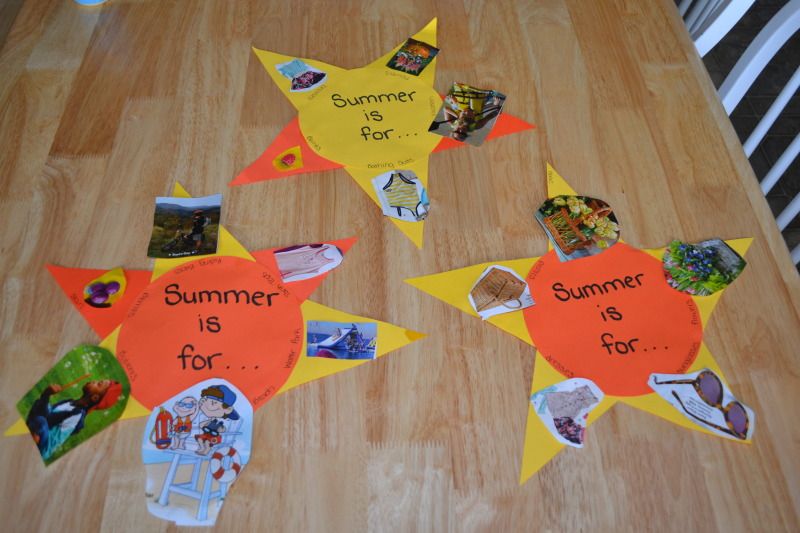 Thanks for stopping by! I'd love to hear from you in the comments and have you join us back again!
Want more ideas for spending time with your kids? Be sure to follow us on our NEW Facebook or Pinterest pages and sign up for emails to keep up with all the latest crafts, activities, and kid-friendly recipes!