The kids helped me make these for Big Brother's school bake sale and they were so incredibly good! Plus, they only used 3 ingredients which makes them a definitely keeper in my book. They did take a little while to finish (which could have been due to my pint-sized helpers), but they were tons of fun and got rave reviews.
For this recipe, we used:
1 package of Oreos (you could definitely experiment with all sorts of flavors here)
1 (8 oz) package of cream cheese
24 oz almond bark (I used chocolate, but again feel free to experiment)
Sprinkles
1. Crush the package of Oreos into small crumbs. We used Ziplock bags and rolling pins to make this more fun for the kids, but you could also use a food processor.
2. In a large bowl, mix the Oreo crumbs with the package of cream cheese.
3. Roll the mixture into one-inch balls and place on wax paper lined cookie sheets. (Yes, this will be messy!!) We put one sheet into the freezer while we rolled the next sheet.
4. Freeze the truffles for 10-15 minutes to make them easier to work with.
5. Meanwhile, melt a few cubes of almond bark in the microwave following the package directions.
6. Using a fork and a spoon, roll each truffle in the melted almond bark and return to the wax paper lined cookie sheet to harden. I found that rolling with the fork and using the spoon to cover it with chocolate worked best. I also found it helpful to lift with the fork and let some of the chocolate drip off before transferring to the cookie sheet.
7. As you work, (after every 4 truffles or so) sprinkle your truffles with the toppings of your choice. We used sprinkles to appeal to the kids, but you could also use coconut, crushed Oreos, crushed candy bars, or even melted white chocolate. You will want to work quickly though so your toppings will stick to the melted almond bark before it hardens.
8. Store truffles in the fridge in an airtight container.
Enjoy!!
And don't worry, these are super rich so you can only eat one or two at a time anyway :)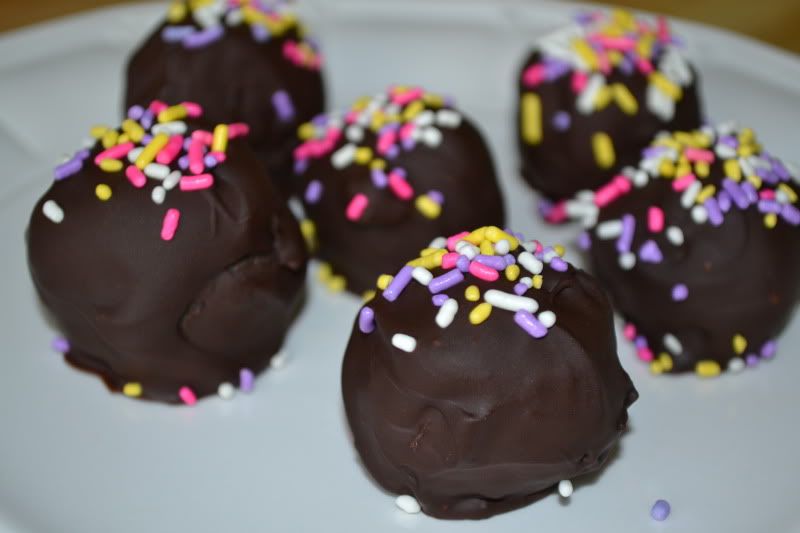 Thanks for stopping by! I'd love to hear from you in the comments and have you join us back again!
Want more ideas for spending time with your kids? Be sure to follow us on our NEW Facebook or Pinterest pages and sign up for emails to keep up with all the latest crafts, activities, and kid-friendly recipes!