Shortly after Easter, I picked up a couple boxes of Funfetti cake mix at Aldi for $.25 each. Now, I wish I had gotten more because I just tried out these super easy Funfetti cookies with the kids and they LOVED them! They were so easy to make and really, who doesn't love sprinkles??!
Ingredients
:
1 box Funfetti cake mix
1 teaspoon baking powder
2 eggs
1/2 cup vegetable oil
1/2 teaspoon vanilla
extra sprinkles (if desired)
Directions
:
1. Combine cake mix and baking powder in a large mixing bowl.
2. In a small bowl, beat together eggs, oil, and vanilla.
3. Stir egg mixture into cake mix.
4. Stir in extra sprinkles.
5. Bake at 350 degrees for 8-10 minutes.
6. Cool 2 minutes and remove to a wire rack to cool completely.
7. Store in an airtight container (if they last that long!!).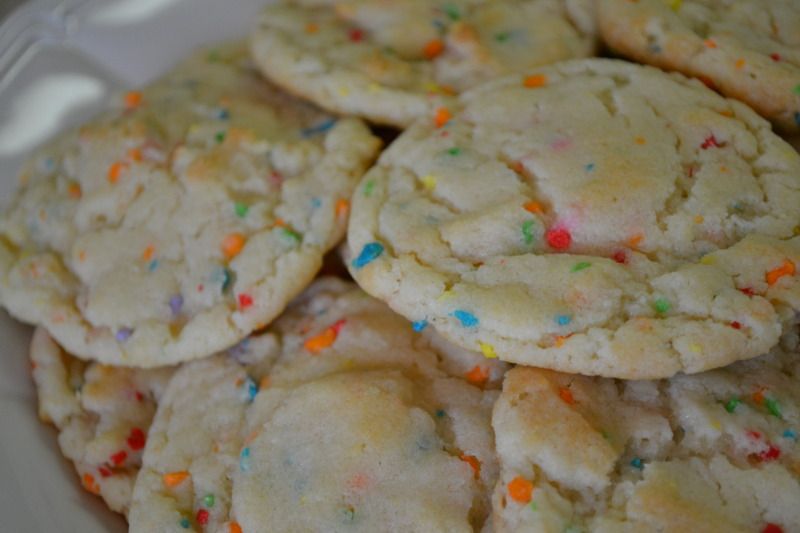 Thanks for stopping by! I'd love to hear from you in the comments and have you join us back again!
Want more ideas for spending time with your kids? Be sure to follow us on our NEW Facebook or Pinterest pages and sign up for emails to keep up with all the latest crafts, activities, and kid-friendly recipes!