Easter is over. We had a great time with friends and family! Everyone enjoyed the moving church service. The younger boys each came home with bunnies that sing "Jesus Loves Me" - so cute! The food was wonderful, the baskets were overflowing, and fun was had by all....and now the clean-up begins. Time to put away the decorations, find homes for all the new toys, and figure out what to do with all these leftovers!!
If you're like me, and wondering what to do with all the beautiful eggs that you kids decorated - read on!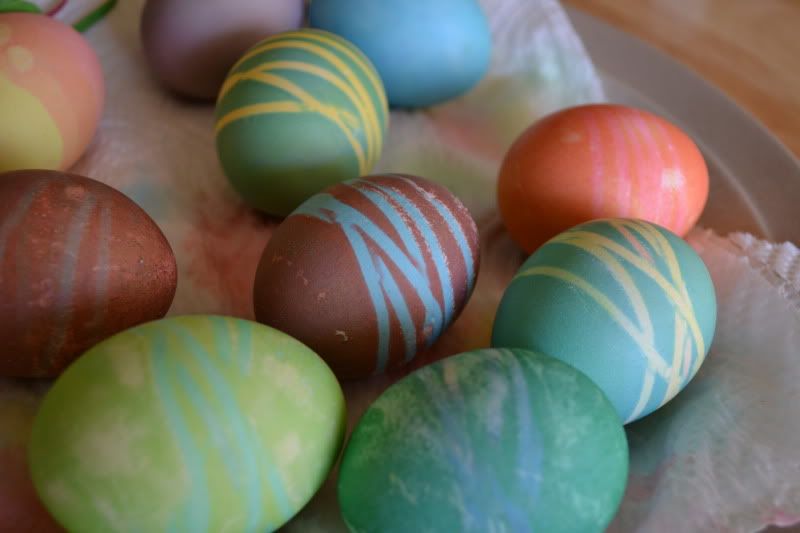 1.
Eat 'em Straight
- My husband will be taking some of the eggs to work with him over the next few days for snacks. Peeled eggs with a pinch of salt make a yummy and nutritious snack packed with protein. I've also heard of people giving them to their kids on a stick for added fun :)
2.
Egg Salad
- Here's a tried and true leftover egg use. Mix chopped boiled eggs with a little bit of mayonnaise and relish and you have a simple lunch for young and old! For added interest, serve egg salad to your little ones in an ice cream cone.
3.
Deviled Eggs
- These are always the first things to go at any family gathering. Here's a
simple recipe
that's sure to please, but don't hesitate to improvise. There are so many variations to the classic.
4.
Breakfast Burritos
- Wrap some chopped eggs with (leftover?) ham and cheese and you have a quick and easy breakfast on the go. You could even add in some chopped green pepper and onions for a western omelet flair!
5.
Salad Toppings
- Slice up some boiled eggs and add them to a healthy salad for an extra protein kick.
Just remember that boiled eggs will last about a week in the refrigerator with their shells and only a couple of hours at room temperature. You don't want anyone getting sick from all those beautifully dyed eggs :)