The kids have been on Spring Break this week, and at first I was worried about how I would keep them all entertained. What I should have been worried about was how I was going to feed all of them!! Anyway, I thought I'd share some of the things they came up with this week, in case you're looking for some ideas to spark your kids' imaginations.
On Monday
: The kids made their own Easter eggs hunts and helped me put away all of the Easter decorations. We used leftover Easter candy for math and color activities (more on those next week). Since most of the kids were exhausted from the weekend, we had a pretty uneventful day with trains, dress-up, and coloring.
On Tuesday
: They played school ALL DAY LONG! I gave them white boards and a little chalkboard and they took over. They created a Kindergarten classroom complete with name tags, cubbies, and centers. The bigger kids lined up the little kids and they practiced walking in lines and raising their hands. They had library and story time and practiced writing their names and numbers. That day I played the art teacher and we painted wooden beads to make necklaces.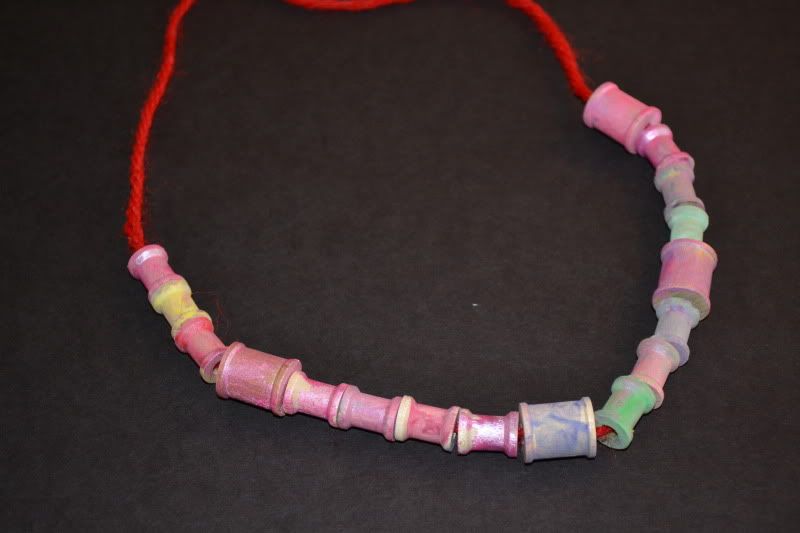 On Wednesday
: I gave them Play-Doh and kitchen utensils and they created a restaurant. They made menus and wrote down each others orders. Then, they spent a LONG time creating their chef masterpieces out of play-doh and serving each other. Later that day, we made a special snack (more to come on that later) and had some fun in the kitchen.
On Thursday
: They created a clubhouse out of my kids' bunk beds. They included signs and secret cards to get in. They pretended to be reporters and interviewed each other and wrote down the answers. They also made maps to find their clubhouse and secret plans to protect their hideout. Then, they made another hideout outside and proceeded to have hours of fun with sticks and helicopters. I'm always amazed at the amount of fun my kids can have with sticks and dirt :)
On Friday
: Who knows what kind of fun today will hold? :)
How do your kids entertain themselves when you take away the television and let their imaginations run?