One of my husband's favorites is cinnamon raisin bread. He always gets excited when he comes home and finds that I've made him some, and I have to admit that I don't do it nearly enough. When I came across this recipe for
snickerdoodle bread
on
Pinterest
, I knew that I needed to try it with raisins for my cinnamon-raisin loving man :) It was amazing!! I tweaked the original recipe and I think next time I may substitute the sour cream for vanilla yogurt for a milder flavor. If you're a cinnamon-raisin fan, you will love this sweet alteration!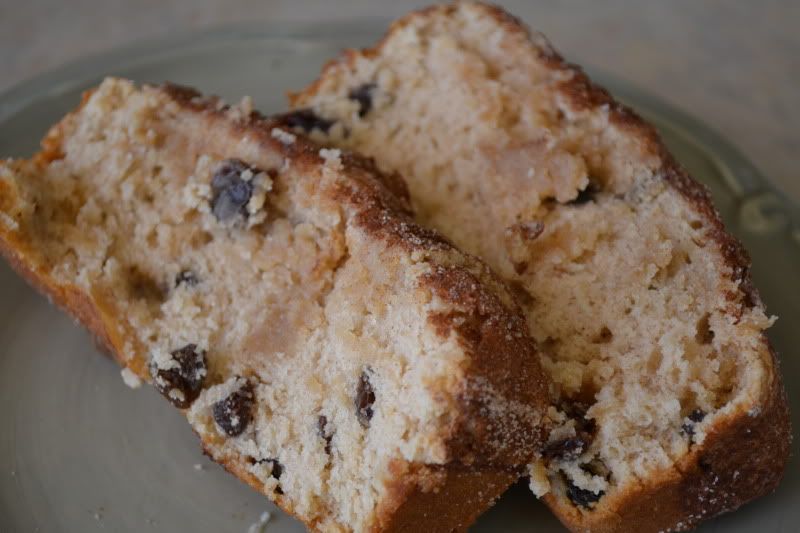 Ingredients
:
2 1/2 cup flour
1 teaspoon baking powder
1/2 teaspoon salt
2 teaspoons cinnamon
1 cup butter, softenend
1 cup sugar
1 cup brown sugar
3 eggs
1 teaspoon vanilla
3/4 cup sour cream
1 package cinnamon chips
1 1/2 cup raisins
Topping
:
2 Tablespoon sugar
2 teaspoon cinnamon
1. Cream butter, sugars, salt and cinnamon until fluffy. Add eggs and mix well.
2. Add vanilla and sour cream and mix well.
3. Mix flour and baking powder in a separate bowl. Add to wet ingredients and mix until all combined.
4. Stir cinnamon chips and raisins into batter. Set aside.
5. Spoon batter into 4 mini loaf pans until about 2/3 full.
6. Mix 2 T. sugar and 2 t. cinnamon in a bowl and sprinkle over the batter in each loaf pan.
7. Bake at 350 for 35-38 minutes. Let cool before removing from pan.
Enjoy!!