As much as I want my entire freezer stocked with meals before the baby comes, I'm beginning to think that doubling everything I make is just not going to work. I'm struggling to remember to buy doubles at the grocery store and sometimes I just don't feel like it. Plus, I usually use most of our leftovers for lunches with the daycare kids. I'm really making an effort, though, to add just ONE thing each week to the freezer. I figure even I can handle that :)
Last week, I made two of these
pizza pasta casseroles
. When I first came across this recipe, I knew that Big Brother would love it! He's obsessed with pepperoni! I was a little concerned, though, about the lack of vegetables. I like to sneak as many vegetables as I can into my kids and the idea of a completely meat and carb meal makes me nervous; especially since my kids all dislike salads. So, I altered the recipe to sneak in my vegetables and I was so pleased with the results. Plus, I now have one more casserole tucked away in the freezer! Week 1 = success :)
Here is the altered recipe:
1 pound ground turkey
16 oz. whole wheat rotini pasta
3 1/2 cups spaghetti sauce (I just used two jars)
1 onion, chopped
1 green pepper, chopped
1 cup frozen spinach, thawed and drained
1 package pepperoni (you could also use turkey pepperoni)
16 oz. part-skim mozzarella cheese, shredded
Grated Parmesan Cheese
*You could also add other pizza toppings that your family likes: mushrooms, olives, peppers, cooked sausage
1. Preheat oven to 350 degrees.
2. Saute onion, green pepper, and frozen spinach. Blend into one jar of spaghetti sauce. The sauce will turn green, but will be easy to conceal once mixed with the other ingredients.
3. Brown ground turkey and drain. Return to pan and mix in spaghetti sauce and the blended sauce with the vegetables. Simmer while noodles cook.
4. Cook noodles according to package directions. Drain; return to large pot. Combine sauce and noodles.
5. Spread pasta into two 9x13 pans. Top pasta with pepperoni (and other pizza toppings if desired). Sprinkle with mozzarella and parmesan cheeses.
6. Bake one dish for 20-25 minutes. Freeze the other.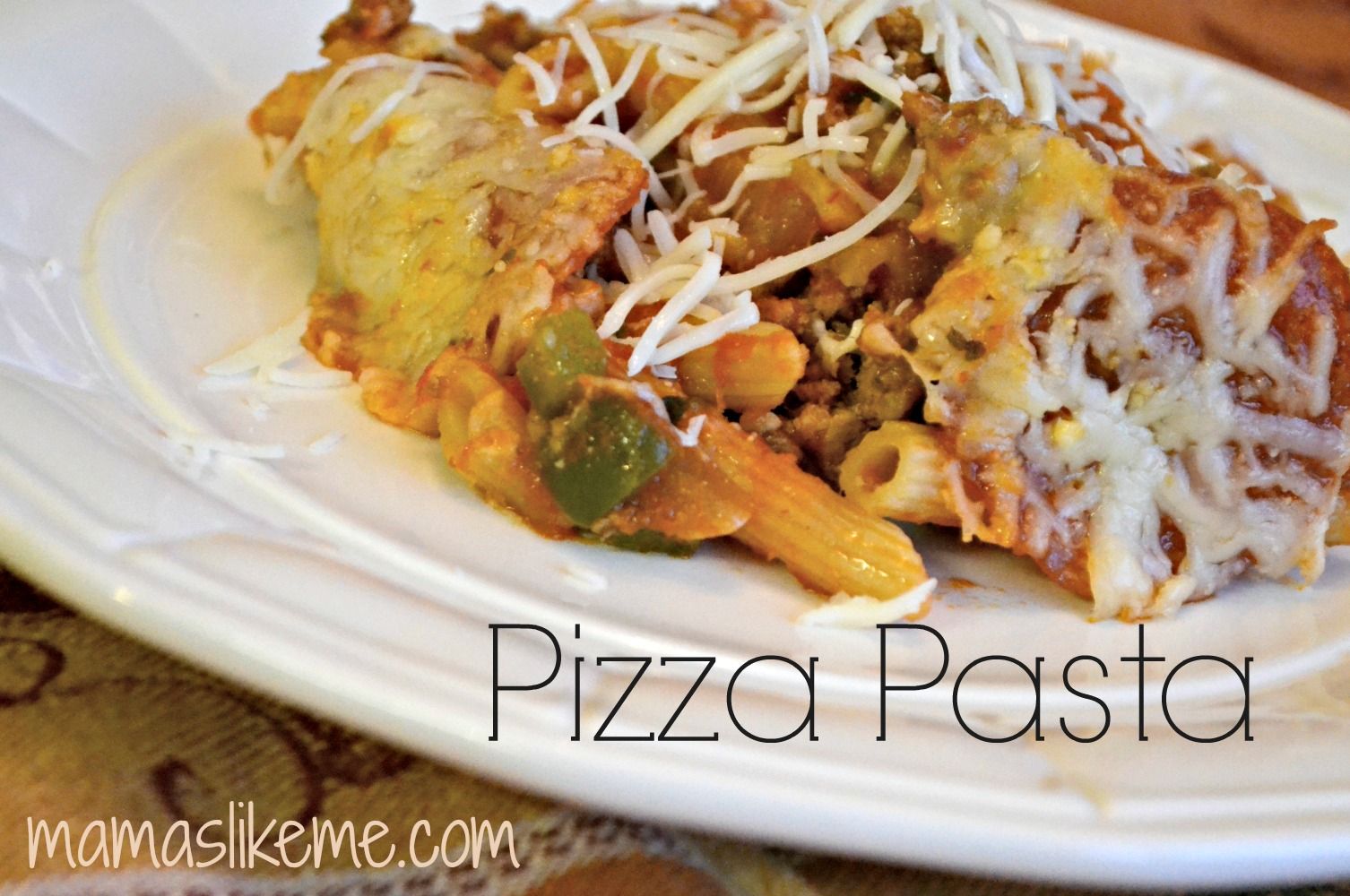 I served this with a fresh fruit salad and garlic bread! The kids really liked it and I felt good knowing they were getting some spinach into the!
Thanks for stopping by! I'd love to hear from you in the comments and have you join us back again!
Want more ideas for spending time with your kids? Be sure to follow us on our NEW Facebook or Pinterest pages and sign up for emails to keep up with all the latest crafts, activities, and kid-friendly recipes!