Last week, we made these weather wheels and the kids have been having so much fun using them to report and keep track of the weather. I'm not sure that we'll get any more snowy days to add to our chart, but the kids are enjoying all of our sunny 60 degree days!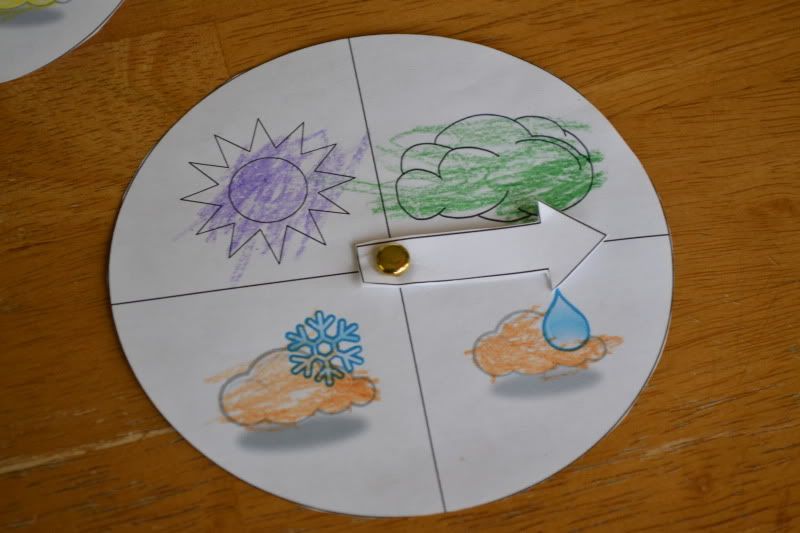 Here is the document I made for our weather wheel. This is my first attempt to post the things I've created, so hopefully it will work for everyone. I printed these out on cardstock and let the kids color the weather symbols. Then, we cut them out and I used brads to attach the arrow to the center of the circle. This was definitely one of our easy, no-mess activities.
Weather Wheel
I also created a wall chart to go along with our weather wheels. After the kids report the weather and change their wheels, we graph the weather on our chart. I chose to do a bar graph for the kids, but if this is your first graphing experience, you may want to use a pictograph instead with pictures of a sun, cloud, raindrop, and snowflake. That way the kids can easily count the number of symbols on the graph to see how many days of that weather have occurred. Once they master that concept, you can introduce bar graphs. My original idea was to keep a tally sheet and then create the bar graph at the end, but the kids are having so much fun making the bars higher each day that I couldn't hold them off. Big Brother was so excited about the new chart that he wanted to keep adding to it over the weekend. He also asked me why we didn't have a "weatherman job" at home. I guess our next project is going to be a job chart :)
Thanks for stopping by! I'd love to hear from you in the comments and have you join us back again!
Want more ideas for spending time with your kids? Be sure to follow us on our NEW Facebook or Pinterest pages and sign up for emails to keep up with all the latest crafts, activities, and kid-friendly recipes!