Is your dinner menu in a rut?? Mine certainly is! I can guarantee you that you will see some form of
our favorite pasta casserole
at least once every two weeks. Our menu will also include tacos,
stromboli
or homemade pizza, baked fish, and some form of chicken breast. What can I say? My kids like what they like. Even with their limited preferences, I have been searching for different ways to serve up our favorite flavors. Last week, instead of "taco night", we made these Mexican pizzas. The kids liked the idea of topping their own pizzas with individual toppings. I have to admit that they still prefer regular tacos, but my husband and I really enjoyed these and, since they were so easy, I may add them into the adult line-up for taco night :)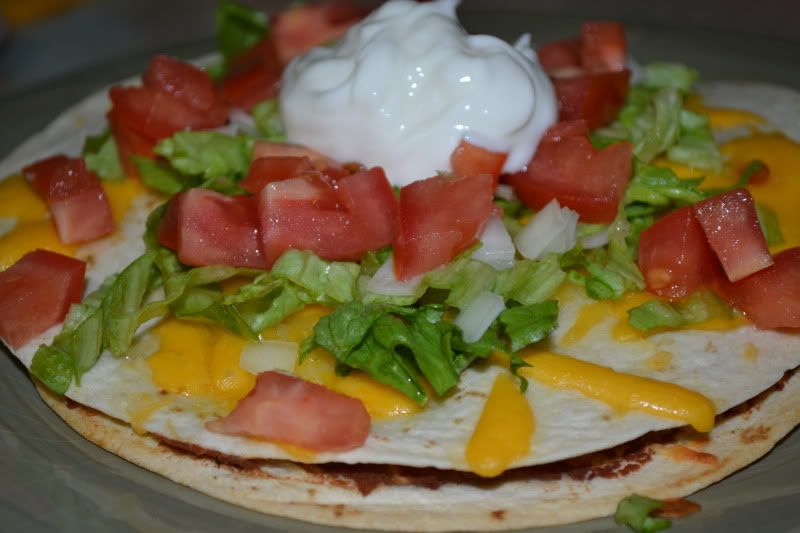 Ingredients
:
1 (16 ounce) can refried beans
1 pound ground turkey
1 package taco seasoning mix
1 tablespoon vegetable oil
4 (6 inch) corn tortillas (we actually used flour instead)
8 ounces shredded Cheddar cheese
Toppings
:
sour cream
tomatoes, chopped
green onion, chopped
1 (4 ounce) can diced green chiles, drained
black olives, sliced
lettuce
Directions
:
1. Heat the refried beans.
2. In a large skillet, brown the ground turkey. Stir in the seasoning packet.
3. Preheat oven to 350 degrees.
4. Place a small amount of vegetable oil in a large skillet. Let the oil heat, then place one corn tortilla in the skillet. After 15 seconds, flip the tortilla over and let it fry another 15 seconds. Repeat this process with the remaining tortillas, letting them drain on paper towels once they have been heated. When the tortillas have drained, arrange them on a cookie sheet. (If you prefer, tortillas can be baked for about 10 minutes instead of frying.)
5. Spread a thin layer of beans on the tortillas, followed by a layer of ground turkey, and cheese. Top with another tortilla
6. Bake the tortillas in the preheated oven for 15 minutes. Top with additional cheese and put back in the oven for about 5 minutes or until cheese is melted. Slice the tortillas into wedges and arrange them on plates or a serving platter and garnish them with the sour cream, tomatoes, green onions, chiles, lettuce, and olives.
What are some of your easy weeknight meals?? I'd love to get some new inspiration :)