Big Brother was diagnosed with IBS (Irritable Bowel Syndrome) a few months after he was born. We saw specialists and tried every remedy available, from changing his diet to medication, and we
thought
we had it under control (meaning - he stopped screaming with every BM). Then, we took him in for his well-child visit and, all of a sudden, it wasn't under control. Apparently, our doctor doesn't subscribe to the idea that everyone's "normal" is different. So, we're back on medication (which I hate) and I'm left searching for even more ways to control this with his diet.
In my effort to add more fiber into his diet, I came across these muffins and they were a huge hit for breakfast. I altered the recipe for our family's preferences, and I was so pleased with how they turned out! All of the kids had them for breakfast and there's a batch in the freezer for quick breakfasts throughout the week.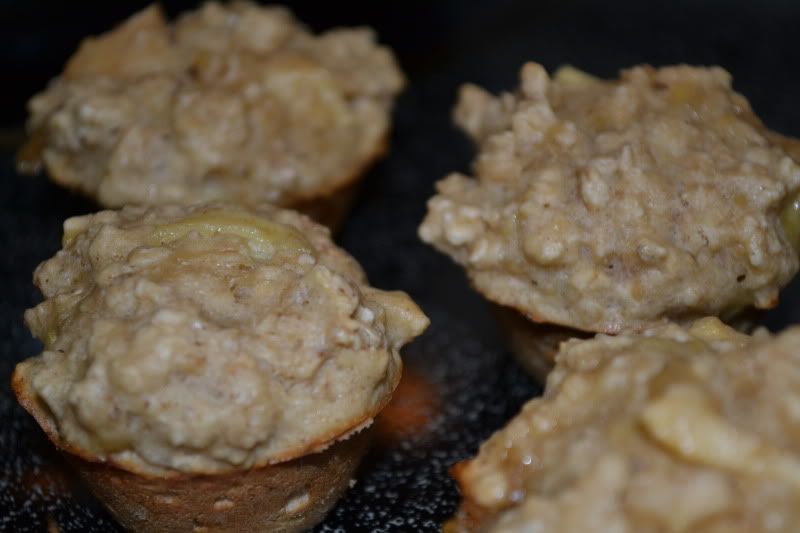 Ingredients
:
2 bananas, mashed (normally we limit banana, but the doctor is pushing them for fiber)
1 egg
1/4 cup oil
1/3 cup fat-free milk
1/2 teaspoon vanilla
3/4 cup brown sugar
2 medium apples, cored and chopped
1/2 cup whole wheat flour
1/2 cup all-purpose flour
1 3/4 cup oats
3 teaspoon baking powder
1/2 teaspoon cinnamon
1/4 cup walnuts (optional - we left them out due to allergies)
1. Preheat oven to 350F degrees. Grease muffin pan or line with paper cups. (I was able to make one full pan and half a pan of mini-muffins with this recipe.)
2. In a large bowl combine bananas, milk, oil, sugar, vanilla and egg. In another bowl whisk together dry ingredients – flours, oats, cinnamon and baking powder. Add dry mixture to wet mixture, mix well. Dust apples and walnuts (if using) lightly with flour to cover, then fold into mixture.
3. Spoon the mixture evenly into muffin cups. (We filled ours right up to the top) Bake for 20 minutes or until tester comes out clean.
4. Cool on a wire rack.
Enjoy!!
I personally thought these were amazing with butter, but I think everything is great with butter :)