We're not the type to go out for fancy dinners or spend a lot of money on Valentine's Day. I'd rather get flowers "just because" rather than on a specific day where my husband feels obligated to buy them. Truthfully, I don't even like roses! And, I'm much happier with a quiet dinner for two at home after the kids go to bed. This year, we decided to try something a little different and the results were amazing! In fact, the next day when I went to grab the leftovers for lunch, they were already GONE! My husband, who hates leftovers, had already taken them to work :) This one is definitely a keeper!!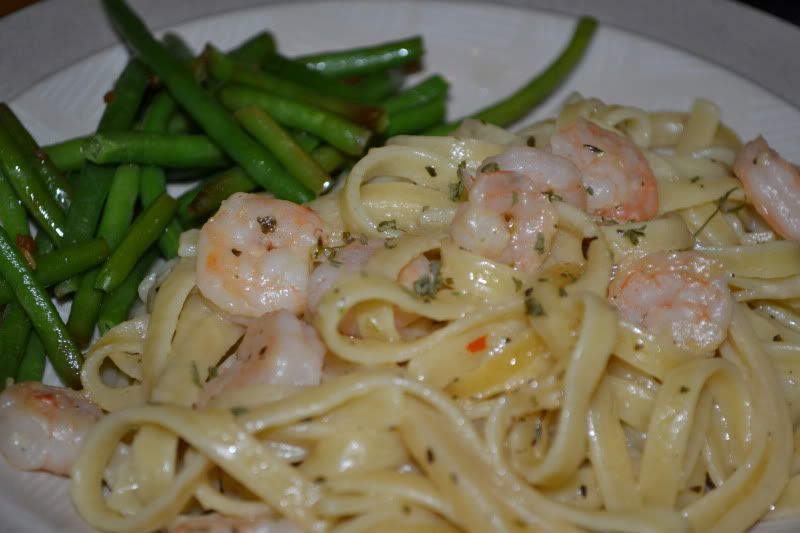 Ingredients:
1 lb medium shrimp , deveined and tails removed
1 lb linguini (more or less, depending on family size)
6 -8 garlic cloves, minced
1/4 cup butter
olive oil
Italian seasoning
fresh ground pepper
red pepper flakes
1/4 cup Parmesan
parsley
1. Cook pasta according to package directions. Drain and reserve 1 cup of pasta water for use later.
2 Meanwhile, wash and prepare shrimp. Melt butter in a large skillet over medium heat. Add shrimp. Let cook till the shrimp just start to turn pink and curl. Add garlic. Cook 5-7 min., add two drizzles of oil. Continue to stir till shrimp is pink and curled.
3. Add pasta to skillet. Add seasonings and Parmesan cheese to taste. Add just enough saved pasta water to form a creamy consistency. Depending on amount of pasta this requires 1/2 the cup or all of it. Start with adding 1/4 of it then work up from there. Keep tossing all ingredients around in skillet until combined and heated through. Sprinkle with parsley and serve immediately.
I served this with sauteed green beans, but it would also be great with a garden salad or fresh asparagus in the Spring!
Enjoy!!