This week is a little crazy in our house! We're getting ready for Big Brother's 6th birthday this Friday and, in order to secure his choice entertainment, we are having his birthday party Friday evening at 5:30pm. Oh, did I mention that I'll still have a houseful of daycare kids all day and that most of them are staying straight through?! Needless to say, I'm a little nervous about getting it all done in time. Since we're spending a good portion of our time getting ready for the big day (baking treats, stuffing goodie bags, organizing games, etc.), I've been pulling from our "go-to" activities. These are the activities I fall back on when we don't have theme crafts planned or we're all too fried to do traditional school activities. I thought I'd share some of them with you guys just in case, like me, you're having a week where you need some easy activities:
1.
Painting
- This is always a favorite and guaranteed to give me plenty of time to fold laundry or throw something in the crock-pot for dinner. Sometimes I'll draw a simple outline that coincides with what we're learning about to give them a chance to practice brush control. This week, I did bubble letters of their names and they loved painting them. Using sponges, pipe cleaners, cotton balls, and other new materials can make ordinary painting even more fun.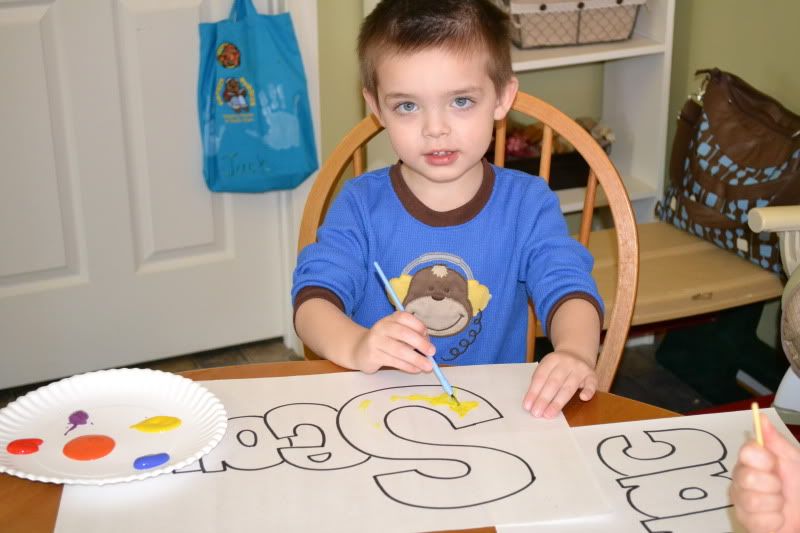 2.
Play-Doh
- Never underestimate the power of play-doh and a few simple toys. Throw in some cars or toy animals and you have a whole new experience.
3.
Puzzles
- My kids all love puzzles. There new favorites are the pattern block puzzles from Melissa & Doug.
4.
Stamps
- Using stamps is a great activity to work with fine motor skills. You can give them blank paper or draw a simple shape for them to decorate. Stamping with their thumbprints also leads to lots of giggles and fun creations.
5.
Dancing & Singing
- When I need to occupy the group for awhile and get the wiggles out, we crank up the music and dance around. The Yo Gabba Gabba soundtracks are great for this because most of the songs have great messages about friendship and manners.
6.
Take It Outdoors
- The kids have been having lots of fun this week (with the GORGEOUS weather) outdoors. We took cars out and made roadways out of chalk. We also pulled out our
Homemade Bubbles
and had a blast.
Next week, I'm looking forward to getting back into the swing of things with our Valentine's Day unit, but for now we're enjoying some less-structured fun and learning :)