The cold and ice have kept us stuck indoors for the past few days allowing for some messier crafts. The kids had a great time painting these winter scenes and sprinkling on their own "snow".
For our pictures, we used:
Blue and white construction paper
Brown Paint
Glue
Paintbrushes
Salt
Paper Plates
Scissors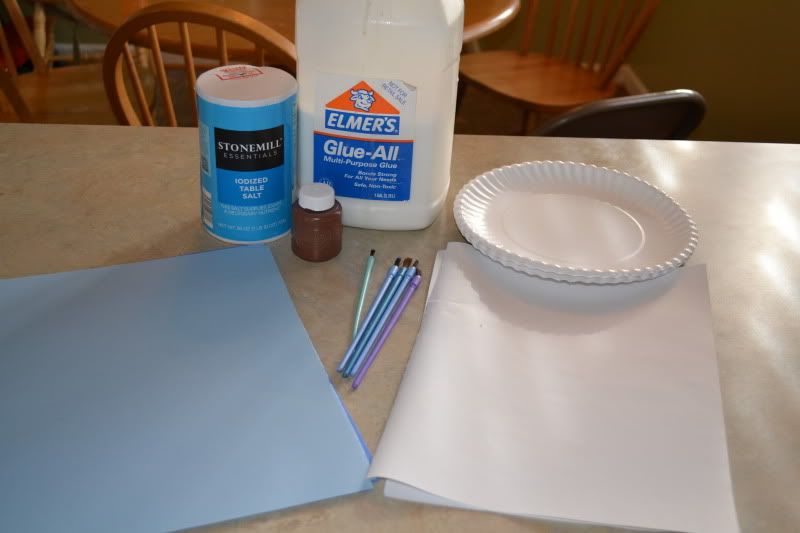 *I recommend covering your work space with newspaper for this one.
1. First, we cut wavy lines for our landscape and glued them to the bottom of the blue paper.
2. Then, I helped the kids paint their hands brown and make a print on the blue paper for the tree. Make sure that you hold on to a young child's wrist through this whole process to reduce the risk of getting paint everywhere :) You'll also want to have a towel or baby wipes nearby to wipe off their hands until you can get to a sink.
3. Next we used the paintbrushes to paint the trunks of the trees.
4. Once the trees dried, the kids used their paintbrushes to paint glue dots all over their pages to look like snowflakes.
5. We then sprinkled salt onto the glue and let it dry. Once the glue dries, gently tap your page to remove the excess salt and it will leave you with a beautiful winter scene.
In case you can't see it in the pictures, here's the poem we used with these:
See the pretty snowflakes
On the trees and housetops